Description
|Originally presented at our Solo & Small Firm Conference, June 9-11, 2021
This session will discuss the changing roles of women, people of color and disabled persons. You will learn ways to open your heart and mind to working with someone who does not look like you. This session qualifies for Elimination of Bias CLE credit.
Speaker: Kim L. Kirn, United States Arbitration & Mediation, St. Louis
Moderators:
SEPT 10 | Alexandra Johnson, AJ LEGAL SERVICES LLC, St. Louis
FEB 2 | Kim L. Kirn
JUN 7 | Kim L. Kirn
Speaker Bio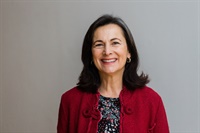 USA&M
---
Kim Kirn works exclusively as a mediator and she has completed over 300 personal injury, real estate, contractual, and employment mediations with US Arbitration & Mediation. Her 35+ year legal career includes mega-big law firms; uber-small law firms; and in-house counsel giving her a balanced approach to ADR.
---
Dates
Wed, Feb 02, 2022 - 12:00pm to 12:52pm CST
Tue, Jun 07, 2022 - 12:00pm to 12:52pm CDT
Cancellation Policy
Click
HERE
to review the Cancellation Policy.