Description
Presented by MoBarCLE and the leadership of The Missouri Bar Committee on Diversity
An ally is any person who actively utilizes privilege to promote a culture of inclusion. Allies listen to and affirm the experiences of marginalized people. In the legal profession, allies provide growth opportunities and mentorship to colleagues from marginalized groups and speak out when inequities arise. This program will provide tips on cultivating inclusion, improving allyship, and promoting anti-racism in the legal profession.
Speaker: Mikah K. Thompson, Associate Professor of Law, University of Missouri-Kansas City
Speaker Bio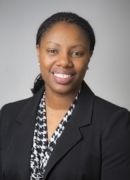 UMKC School of Law
---
Mikah Thompson is an Associate Professor at the UMKC School of Law. Her course load includes Civil Procedure, Evidence, and Race and the Law. Thompson frequently provides continuing legal education in the areas of employment law, ethics, and implicit bias. She earned her J.D. from Washington University in St. Louis.
---
Cancellation Policy
Click
HERE
to review the Cancellation Policy.