Description
Sponsored by MoBarCLE and the Lawyers Living Well Special Committee
Many lawyers wear sleep deprivation as a badge of honor to demonstrate how hard they are working, but it is critical for lawyers to get adequate sleep to recover from occupational stresses and perform at their highest professional level. Good sleep hygiene has a host of short and long-term benefits, from boosting mood to improving memory to even decreasing the risk of cardiovascular disease. And anyone who has woken up for a morning meeting after a poor night's sleep can attest that sleep is a necessary component to being one's optimal self. This program will provide practical tips and suggestions to help lawyers get to sleep, stay asleep, and make sure they are getting the right amount of sleep for peak brain functioning overall.
KEY POINTS
Discuss Impact of sleep deprivation on society.
Discuss Common Sleep Disorders, including Insomnia, Snoring & Sleep Apnea
Discuss ways to address common sleep disorders.
Speaker: Dr. Abid Bhat, MD MBA, Sweet Sleep Studio LLC, Grandview
Moderator: Athena Dickson, Kansas City
Speaker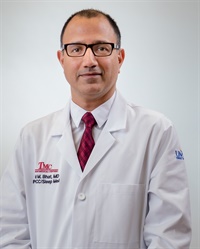 Sweet Sleep Studio LLC
---
Dr. Abid Bhat specializes in sleep medicine, and is the Medical Director at the University Health, Center for Sleep Health in Kansas City. He is also professor of Internal Medicine at the UMKC School of Medicine here in Kansas City and program director for sleep medicine fellowship.
---
Cancellation Policy
Click
HERE
to review the Cancellation Policy.