PARTICIPATION CODES FUNDAMENTALS
Participation Codes (Letter Codes) are shown throughout certain types of programs to confirm attendance in order to complete Certification.
Each code will consist of a single letter
Each participation code will not be announced in any way. There are no audio cues when a code is displayed.
The participation code will not display during any program breaks.
The codes typically are scheduled for a repeat showing if the code is not saved during it's first showing.
---
HOW DO PARTICIPATION CODES WORK
Participation Codes are not part of the video or the video player but are a graphic overlay in the viewer.
Codes will display even if video is completely not working (such as being blocked by firewall) or if you are experiencing temporary buffering / playback issues.
Codes only need an Internet connection at the most basic level to display.
Codes will display no matter how the viewer is resized.

TYPICAL PARTICIPATION CODE VIEW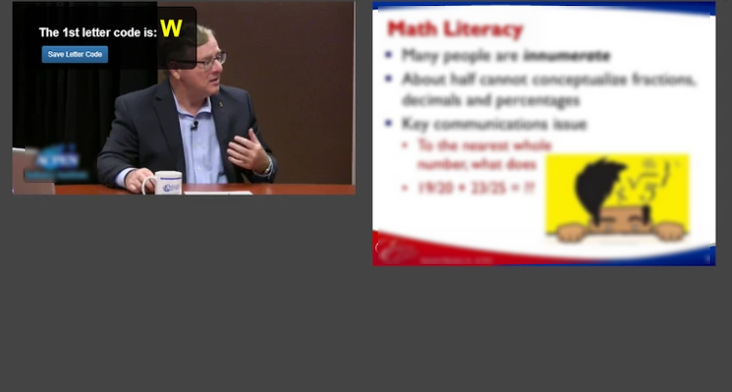 ---
ENTERING PARTICIPATION CODES
SAVE LETTER CODE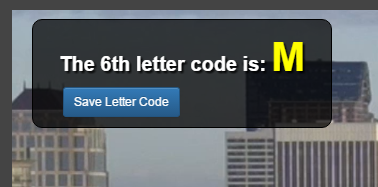 During the display of each Participation Code there will be a "Save Letter Code" button
If you click on this button, the participation code will automatically enter that code into your certification process.
If you use the 'Save Letter Code' button and if the code was scheduled to display an additional time, you will not see the repeated display as you have already acknowledged and entered the code.

MANUAL PARTICIPATION CODE ENTRY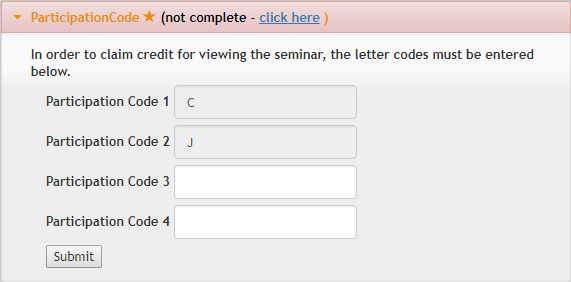 You can also enter Participation Codes manually by going into the Participation Codes section of your certification process and typing in the code. Each code will auto-save as you enter each code.
If you type in a code manually and if that code was scheduled to repeat display later on, you will see the repeated display. Ignore repeat displays of the same code as you have already entered in that code.
Whether you use Save Letter Code or enter codes in manually, we recommend writing down each of these participation codes on a piece of paper as well. Saving the letter code is for your convenience, but knowing the codes proves attendance.
---
WATCHING ON MOBILE DEVICE / CE21 MOBILE APP
Watching on a mobile device will allow for viewing participation codes with the exception of iPhones (iPad will display codes fine).
iPhone users will see the below message when trying to launch a program with participation codes in their browser on the device:


We recommend iPhone users download the CE21 Mobile App to view programs with Participation Codes
---
SUBMITTING PARTICIPATION CODES
Upon completion of the program you will be required to click on the "Submit" button to submit your Participation Codes.
If you have any additional questions, please contact customer support.